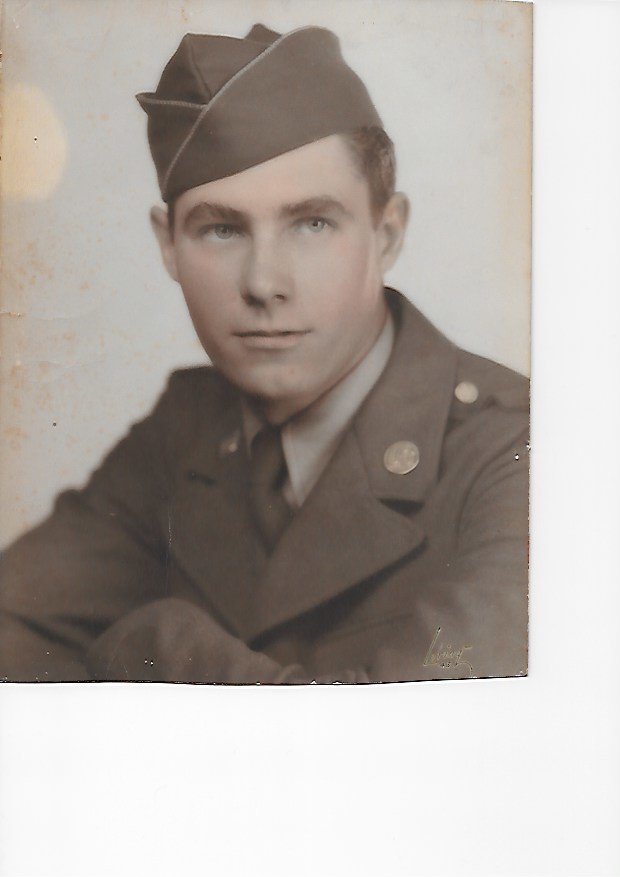 Share Your Memory of
William
Obituary of William Morrison
Voorheesville, NY – William Morrison, 95, passed away at home on October 5, 2018. The second child of Euphemia and David Morrison, Bill was born in Girvan, Scotland on September 28, 1923. The family emigrated to the United States in 1927, and settled in Fairfield, CT, close to the ocean and beaches he loved, and where he met his future wife, Lois Jane Schildhauer.
Bill joined the army in 1943, as a member of the elite skiing troops of the 10th Mountain Division. After training at Camp Hale in Colorado, he was sent overseas to combat the enemy in the mountains of Italy where he quickly rose to the rank of Staff Sergeant and served with distinction, earning the Bronze Star, the Purple Heart, and the Combat Veteran's Badge.
After the war, Bill began college at the University of Connecticut, then transferred to the University of Denver, where he graduated Phi Beta Kappa and started his twin careers of education and amateur theater.
Bill taught elementary school in Portland, Oregon for two years before returning to the east coast, where he considered himself extremely fortunate to find a 5th grade teaching job at Slingerlands Elementary School in the Bethlehem School District, just one week before school started. He remained there until 1970, when he transitioned to the new Middle School in the District as a 6th grade teacher, after researching the concept of middle schools. At that time he was also a founding member of the New York State Middle School Association. He remained at the Middle School until retiring from full-time teaching in 1986.
Theater played a large role in Bill's life, beginning with a summer theater class in 1950. The Slingerlands Community Players, a highly regarded theater group that inititally performed at Slingerlands School, then moved to the Bethlehem High School, drew Bill in early on, and he was extremely active with the group in the 60's and 70's as both an actor and a set designer. Bill remained active in theater productions in Bethlehem even after the community organization was disbanded, by working with the Bethlehem High School Theater program as the scenery advisor, mentoring students as they built the sets for their productions. He held this role up until last year.
Bill was an active member of the Boy Scouts since he was 8 years old, except while serving in WWII. He first served as a scoutmaster while still in Fairfield. He served as a longtime scoutmaster of Cub Pack 73, and of Boy Scout Troop 73 in Voorheesville. He also held the Silver Beaver award.
The Heldeberg Workshop held Bill's interest for more than 45 years, in which he served as volunteer, teacher, and board member, and close to 20 of those years as chairman. As chairman, Bill was involved in most of the building projects undertaken by the Workshop.
A long-term supporter of the 10thMountain Division National Association, Bill was the President of the Upstate New York Chapter for a number of years, being involved in ceremonies at Fort Drum in upstate New York and at Whiteface Mountain.
Bill also enjoyed a long association with the Presbyterian Church in New Scotland in a number of roles, including singing in the choir.
Survivors include his children, Dave (Astrid), Bruce, Malcolm (Margaret), Bonnie (Brendan), Heather (Jennifer), Robert (Janet), Duncan (Robert), and Stuart (Liesl); his grandchildren, Ian (Kim), Justin (Dana), Patrick, Conor, Alex, Katy, Casey, Braeden and Lukas; and his great grandchildren, Hunter, Skylar, Denver, Wyatt, and Lucy. Bill is also survived by his brother, Edward, and his sisters, Jean and Catherine. He was predeceased by his wife, Lois, his sisters, Margaret and Flora, and his parents.
Relatives and friends may call at the Reilly and Son Funeral Home, 9 Voorheesville Ave., Voorheesville on Friday, October 12, from 4-7 p.m. Funeral services will be held at the Presbyterian Church in New Scotland, 2010 New Scotland Rd., Slingerlands on Saturday, October 13 at 1:00 p.m.
In lieu of flowers, gifts in Bill's memory may be made to the Wounded Warrior Project, P.O. Box 758517, Topeka, KS (or woundedwarriorproject.org), the Presbyterian Church in New Scotland endowment fund, or a charity of your own choosing.
Reply Reply All Forward
© 2018 Oath Inc. All Rights Reserved
Open in new window (o)
TheQuickBrownFoxJumpedOverTheLazyDog
To send flowers to the family or plant a tree in memory of William Morrison, please visit Tribute Store
Visiting Hours
4:00 pm - 7:00 pm
Friday, October 12, 2018
Reilly & Son Funeral Home
9 Voorheesville Ave.
Voorheesville, New York, United States
Memorial Service
1:00 pm
Saturday, October 13, 2018
New Scotland Presbyterian Church
2010 New Scotland Rd.
Slingerlands, New York, United States