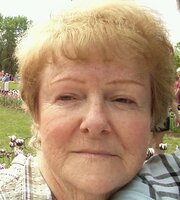 Barbara J. Maples
Colonie - Barbara J Maples of Colonie, passed away peacefully on May 18th, 2023 after a short illness at Albany Medical Center Hospital. She was surrounded by her family and loved ones, Barbara was born on Sand Creek Rd in Albany, NY on August 27th,1939. She lived most of her adult life in Colonie, finally residing at the Towers of Colonie.
Barbara was a graduate of Albany High School and worked at the NY Telephone Co. in Colonie. She then had a long career of 32 years for the NYS Department of Tax and Finance and retired at age 55.
For those who knew Barbara, she never really retired as she found her second calling as the social director in the Towers of Colonie Senior Citizens club fondly known as the "Silver Streaker's". Barbara loved "her Seniors" and planned hundreds of parties, events and bus trips to many places in the Great North East. The people at Yankee Trails new Barb well and were good friends. Barbara had friends all over and If you met Barb, you left as her friend. She may have been tiny but her laugh and generosity was bigger than she was. Her loved touched everyone.
One of Barbara's biggest accomplishments in life was raising her children and grandchildren. She cared for her husband of 57 years, Jerry Maples. He was her priority, and she loved him deeply.
She is survived by her husband Jerry; her son Michael Urbanski and her daughter Cindy Stark. She is also survived by her brother Ken Thomas (Marion) and Gary Thomas (Abby). She was predeceased by her brother Fred Thomas. She has four grandchildren; Kenny, Joshua and Katie Allen and Karissa Urbanski. She loved her family with all her heart and was very proud of them.
Calling hours will be Friday, May 26, 2023 from 4-6 p.m. at the Reilly & Son Funeral Home, Colonie with time to say something about Barb between 5:30 - 6 p.m. Barbara will be buried at a later date, with family beside her, at St John's Cemetery in Colonie.
In lieu of flowers, donations in Barbara's name to the Cardiac Care Center at St. Peter's Hospital would be appreciated.