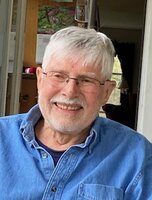 Donald D. Meacham
Voorheesville - Donald Meacham passed away May 16, 2023 at home just 12 days short of his 91st birthday. His wife Lauren, the love of his life, along with his daughter Darcy were with him when he passed from a worn out heart.
Don grew up on Indian Ladder farms where his father was Orchard Manager. He graduated Class of 1950 from Voorheesville High School and Colgate University in 1954. Following service in the US Army, he attended Albany Law School and started his long career as a sole practitioner in beautiful downtown Voorheesville in 1960. Wanting to make a difference in his community, he represented many of the local people and entities including being the attorney for the Village of Voorheesville and the Zoning and Planning Boards. He also represented over the years, the Helderberg Workshop, the Voorheesville School Board, the Library Board, the New Salem Fire Dept., and others, many pro bono.
Being a lawyer was not his first choice. He would have loved to have been a farmer. He was happiest in his wonderful vegetable garden. He enjoyed tennis, ice hockey, ice boating with brother Jim, golf, nickel/dime poker and was co-founder of the "Voorheesville HorseshU League".
He is survived by his loving wife, Lauren Hatch Meacham, with whom he celebrated 25 years of very happy marriage in January; his children, Darcy Morrison, R.Dean Meacham (Karen), Heather LeVeille (Javier), Courtney Bellouny (Leigh), Patricia Lee, Jody (Jenny) and Bridget Gallagher; grandchildren, Anna Denzel (Jeff), Dylan Foster, Lukas Morrison; Ryan and Emily LeVeille; Logan and Caden Bellouny, Brehan Lee Riley (Chad), Sarah Cooper (Trevor); great-grandchildren, Finnegan, Edith and Samuel; sisters-in-law, Beverly Meacham, Barbara Vink and Cheryl Hatch and several nieces and nephews. He was predeceased by his parents Robert D. Meacham and Bernice Warner Meacham, his brothers James and Thomas and his sister M. Jeanne Wilhelm.
Services will be private at the convenience of the family.
In lieu of donations, please make a stranger smile or do something nice for someone in need.