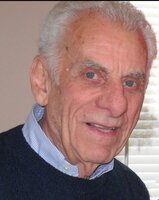 Andrew C. "Andy" Martello
Delmar - Andrew C. Martello, "Andy", 89, formally of Albany, New York, passed away peacefully at his residence with his loving family by his side on Monday, April 24, 2023.
He was the son of the late Antonio and Mary (Pasquarella) Martello. He is proceeded by his loving wife of over 60 years, Marguerite (Tricomi) Martello. He is also proceeded by his one brother and five sisters as well as his grandson, Nathan Sprague.
Andy is survived by his daughters Deborah (Bede) Edwards and Kimberly (Eric) Sprague. He is also survived by his grandchildren, Ashley (Brad) Roberts, Nicholas (Tay) Sprague, Makaila, Ty, and Kamden Sprague, 6 great-grandchildren, and his sister-in-law, Marie Kavanagh. He is survived by many nieces and nephews.
For over 50 years, Andy was a bricklayer by trade and became President and Business Agent for Local 2 until his retirement. Andy enjoyed watching the New York Giants, horse racing, going to the casino and watching Family Feud and Wheel of Fortune. His greatest joy was spending time with his family.
A special thank you to his care givers/family members. Especially, Keya, Ken, Laurie, Jackie, Akilah, Lonnie, Kara, Michelle, Andrea, and St. Peter's Hospice in our time of need.
Relatives and friends are invited to attend graveside services at 2:00 p.m. on Friday, April 28, 2023 at Our Lady of Angels Cemetery, 1389 Central Ave., Colonie.
Donations in memory of Andy can be made to St Peter's Community Hospice or the Capital City Rescue Mission.