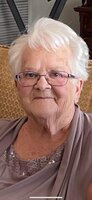 Virginia "Ginny" Fisher
Voorheesville - Virginia "Ginny" Fisher of Voorheesville. loving mother and Nanny who loved her babies, died on April 15, 2023 at St. Peter's Hospital. Virginia was 11 days shy of turning 90.
Mrs. Fisher was born in Medusa, NY on April 26, 1933. She loved her grandchildren.
Virginia is survived by her loving daughter, Bonnie (Lynn) Wacksman of Guilderland, NY; loving sons, Walter Fisher Jr. (Lou DeMaria) of Prescott, Arizona and Jeff (Candy) Fisher of Delanson, NY; and loving daughter, Jennifer of Voorheesville, NY. Virginia was also survived by her grandchildren, Steve (Kathy) Wacksman of Guilderland, Mike Wacksman of Cobleskill, NY, Christina (Stuart) Menzies of Esperance, NY, Katrina Fisher of Scotia, Ashley (Justin) Morehouse of Owego, Tiffany (Jared) Wengenack of Schoharie, Jessica (Andrew) Preisner of Westerlo, NY, Cody (Emily VanWormer) Fisher of Medusa, NY; and a loving brother, Thomas (Linda) Furman of Troy, NY
She is also survived by 17 great grandchildren, Zachary, Connor and Madison Wacksman, Liam, Owen, Dillon and Faith Preisner, Victoria and Stuart Menzies, Jayden Fisher, David and James Patnode, Courtney, Colin and Jason Morehouse, Dean and Roy Wengenack, two step grandchildren Michaela Burbank and Allison Lefebvre.
Virginia is also survived by several nieces and nephews. Virginia was predeceased by her loving husband, Walter Fisher and son, Jimmy.
Funeral services will be held at 10:00 a.m. Thursday, April 20, 2023 at the Reilly & Son Funeral Home, Voorheesville. Burial will be in Memory's Garden in Colonie. Relatives and friends are invited and may also call at the funeral home Wednesday from 4 - 7 p.m.
In lieu of flowers and those who wish to donate, please make a donation to the Voorheesville Fire Department at 12 Altamont Rd, Voorheesville, NY 12186.