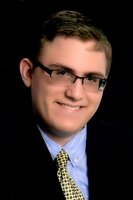 Joshua D. Unverhau
COLONIE – Joshua D. Unverhau, 24, died Wednesday, with his steadfast family at his side after a spirited lifelong sparring match with Duchenne Muscular Dystrophy.
Josh was born in Albany on May 11, 1998, to Arleen Reyell and David Unverhau of Colonie. He was a 2012 graduate of St. Pius X School in Loudonville and a 2016 graduate of Colonie Central High School. He later received an associate's degree in Computer Information Systems from Hudson Valley Community College and was pursuing a bachelor's degree in Informatics at UAlbany at the time of his death.
An ardent reader of history, geography and computer science, Josh had an uncanny ability to absorb numerous nuggets of information that he was more than happy to share with family and friends—whether they wanted to hear it or not. He was a three-time winner of the St. Pius School Geography Bee—the first time from his hospital bed, where he was recovering from a broken leg. He was also an active member of the Colonie High School Eco Club and a regular presence with his mom at local Make-A-Wish of Northeast New York events. One of his fondest memories was a Make-A-Wish trip to Alaska. His favorite go-to place each summer as a youth was the Double H Ranch in Lake Luzerne, where he was a treasured camper for many years. He also enjoyed numerous travel adventures with best friend Dan Derocher, who joined Josh on trips to California, Florida, Canada, Washington, D.C., and more. Late-night gaming and computer chats with Dan and other friends were often boisterous events.
Josh's sharp wit and dry sense of humor, honed with his dad and older brother, Ben, stood him well as he faced adversities with a well-placed pun and a decided lack of self-pity that belied his young age. Star Wars watching nights with Ben were also a favorite, and Josh was later happy to be a part of Ben's marriage to his wife, Jess, as well as a doting uncle to his niece Addalyn—his "pumpkin." In his too-short life, Josh leaves a legacy of wry humor, opinionated knowledge and no-nonsense resolve that will be sorely missed.
In addition to his parents, Josh is survived by his brother Ben (Jess) Unverhau of Moreau; his maternal grandparents, Richard and Janice Reyell of West Chazy; his paternal grandparents, Walter and Norma Unverhau of Colonie; his niece, Addalyn; several aunts, uncles and cousins—and canine companion, Gus. His family is also grateful for the support of Josh's longtime aide, Arthur Stott, as well as the compassionate care of Dr. Matthew Murnane, Dr. Harry Miller and Dr. James Gaylord, as well as a host of doctors, nurses and therapists who made his life much more bearable.
Funeral services will be private at the convenience of the family. In lieu of flowers, Josh's family requests that donations in his memory be made to Double H Ranch (https://www.doublehranch.org/donate) or Make-A-Wish Northeast New York (https://secure2.wish.org/site/SPageServer?pagename=donate_today&chid=060-000).
reillyandson.com
Note - please run Friday, 3-31-23
- please center website on last line
- please use Reilly & Son, Colonie logo
- picture is attached
Reilly & Son F.H.
1200 Central Ave.
Colonie, NY 12205
518-459-1200