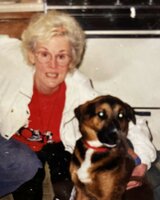 Claudia Kirby
Claudia Cutler (Claudie) Kirby, 79, of Schenectady, New York, succumbed to heart disease at her residence in the Glendale Home on March 2, 2023.
Claudia loved people, animals (especially dogs), and throwing little to-dos. To honor her life, we will be hosting a Yappy Hour Open House on Saturday, May 27th, from 1:00-4:00 p.m. Friends and family are invited to attend. Dogs are welcome, too! If you would like to stop by to offer condolences, share a story, toast Claudia, or simply wag a tail, please visit: https://bit.ly/LittleToDo (case sensitive) and submit the form. You will receive more detailed information shortly thereafter. There will be no public services.
Claudia was born to Neva M. and Frank N. Kirby, Sr., and resided in the Capital Region all her life. A graduate of the Vincentian Institute, Claudia had a diverse history of employment. She supported students and worked in various roles at the University at Albany. It was here that she became lifelong friends with some of the "kids'' who attended at the time. Claudia was also an entrepreneur who ran her own businesses, including Kirby Communications. Her favorite of all, however, was when she followed her bliss and founded A Lot to Do & CLAWdee's Pet Sitting business in 2008. Her friendship circle grew exponentially from this dream come true. She genuinely loved her customers and their owners.
Claudia believed the world looked brighter from behind a smile. She inspired others with her steadfast commitment to her overall well-being — mental, emotional and physical. She loved yoga and was always up for a nice walk (notably, she climbed Mt. Kilimanjaro) or spontaneous fun. She was known to pull the car over, get out and literally dance in the road when "Dancing in the Streets" came on the radio. She enjoyed frequenting Grandma's Pies in Colonie and could often be seen in a booth sipping tea with friends. Always quick witted, she loved a good pun or double entendre. Her laughter was infectious and most all who met her instantly became part of her close social network.
Claudia is survived by her niece, Susan P. Kirby-LeMon, her nephew-in-law, Steven LeMon, her nephew, Frank T. Kirby, fraternal grandniece, Bridget Kirby LeMon Warneke (Jonathan Warneke), sister-in-law, Georgia R. Kirby, cousin, Lynne Osgood, former sister-in-law, Patricia Kirby, other cousins and many caring friends. Claudia was preceded in death by her parents, Neva M. (Pike) Kirby and Frank N. Kirby, Sr., and her brother, Frank N. Kirby, Jr. She was also predeceased by, and never truly got over the loss of, her beloved pet, Jack.
Claudia's family wishes to extend their sincere appreciation to Sabrina and the staff at Glendale Home for the wonderful care they provided. They would also like to thank her dear friends, Karen and Lisa, for being the last thing on her mind when she passed.
Claudia's love of dogs cannot be overstated. Memorial donations may be made to Mr. Mo Project at www.mrmoproject.com, or mailed to: Mr. Mo Project Mail Center, 641 Grooms Rd. #235, Clifton Park, NY 12065.