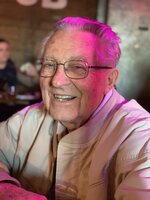 Charles K. Csiza
Voorheesville - Charles K. Csiza, 85, of Voorheesville, died February 28th 2023 at Daughters of Sarah Nursing Home after losing his battle with Alzheimer's Disease. Born in Hungary; April 4,1937, oldest of 3 children, Istvan and Angyalka Csiza. In the fall of 1956, he was in the second year of his studies at a Veterinary College in Budapest. After the defeat of the Hungarian Revolution by the Russian troops, he made the very difficult decision to leave his family and country. He stayed in refugee camps in Austria and England before being granted immigrant status in Canada, April 1957.
He began teaching himself the English language while working as a janitor in a hospital. In 1958, he was admitted to the Ontario Veterinary College as a freshman. He worked his way through college, and graduated with a DVM degree from University of Toronto in 1963. He also studied at Cornell University in Ithaca, and received a PhD degree in microbiology in 1970, and became Diplomat in the American College of Veterinary Microbiologists in 1971.
Charlie married Colette Marcoux of Quebec City, Canada in 1964. They have 3 children: Andrew, Kathleen and Stephen. Charles and his wife Colette became United States citizens on May 26, 2000.
Charlie was actively involved in the children's activities, especially in Pop Warner football and competitive swimming. He was a member of several professional organizations; the Albany Curling Club; communicant of St. Matthew's Church in Voorheesville.
Charlie's professional experience included 3 years employment at Connaught Medical Research Labs in Toronto, Ontario; 4 years teaching assistant in the Department of microbiology at NY State Veterinary College, Ithaca; and 29 years of service at NY State Health Department, Wadsworth Center for Laboratories and Research.
Charles was the husband of Colette Csiza; father of Andrew Csiza (Sarah), Kathleen Csiza (Sergio Estella, Jr.) and Stephen Csiza (husband, Joseph Gumpper); Grandfather of Allison and Quinn Csiza, Zoe and Sergio (3rd) Estella; brother of Angyalka and the late Istvan; Uncle of Tibor Soos (Krisztina Dominko Soosne), Alexandra Soos, Daniel Soos and Anita Soos. Charles is also survived by several other extended family members.
A funeral mass will be celebrated at 10:00 a.m. at St. Matthew's Church, 25 Mountainview St., Voorheesville on Monday, March 6, 2023. Relatives and friends are invited and may also call at the Reilly & Son Funeral Home, Voorheesville on Sunday March 5 from 4 - 6. p.m. Burial services will be private. For those who wish, memorial donations to the Alzheimer's Association, 225 N. Michigan Ave., Fl. 17, Chicago, IL 60601 would be appreciated.