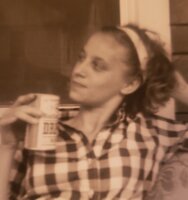 Diana R. Hempel
Diana Hempel, Voorheesville NY passed away on February 22nd after a long illness. She was born in Albany where she lived and worked at the telephone company until she moved with her husband, Russell, and their two children to his childhood home in Voorheesville. She cared for her mother-in-law until her passing and raised her children. She babysat many Voorheesville children until she went to work at Nichols Market when it opened until she retired. She was a proud member of the Voorheesville Auxiliary 1493 for 35 years. She loved her family, the Yankees and playing cards. If she could do all of this on her front porch during the summer, that was best.
She was the beloved wife of Russell (46 years until his death), mother of Susan Hempel (Robert Siemann) of Voorheesville, Russell Hempel Jr (Pamela Celestian) of Baldwinsville NY, the stepmother of Wanda (Neil-deceased) Martin. The proud grandmother of Nicholas and Vincent Patterson, Kyle, Justine and Victoria Buddie, Avery Hempel, Tara Martin and the great grandmother of Coraline.
She was adored by her siblings, Michael (Carol - deceased) Schultz, Joseph (Jean) Schultz and David (Cindy) Schultz.
A funeral service will be held at 11:00 a.m. on Tuesday, February 28, 2023 at the Reilly & Son Funeral Home, Voorheesville. Relatives and friends are invited and may also call at the funeral home Monday from 4 - 8 p.m.
For those wishing to remember Diana in a special way you may send contributions to Jim Nichols Memorial Fund, c/o Tyler Nichols, 23 Fairfield Avenue, Albany NY 12205.