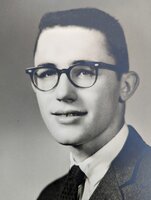 John A. Curlette
VALATIE – John Adams Curlette, 78, passed away peacefully on February 18, 2023 at the Grand Rehabilitation and Nursing at Barnwell in Valatie, New York.
John was born on November 12, 1944 in Albany, New York to Charles Campbell Curlette and Marion Adams Smith Curlette.
John grew up in Voorheesville and graduated from Clayton A. Bouton High School. Subsequently, he served two years in the Army as a radio teletype repair operator which included a tour in Vietnam. After Vietnam, John returned to work for the New York State Office of General Services, where he was employed for over 35 years.
He was predeceased by his loving wife, Linda VanRavenswaay Curlette, who passed away 29 days before John. They were co-residents at Barnwell. During their years together, they were deeply in love and seemed inseparable.
John was predeceased by his parents, Charles and Marion Curlette; and his brother, Charles M. Curlette. He is survived by his brother, William L. (Cathy) Curlette; his nephews Robert, David, and Carl; and his niece, Christina. On the VanRavenswaay side of the family, he is survived by two sisters-in-law, Ellen and Karen; a brother-in-law, Robert; and a niece who helped with John's care, Tracey Busch; along with many other relatives. John will be missed as he was a caring, generous, and kind person.
A viewing will be held on Saturday, February 25, 2023 from 10 a.m. to noon at the Reilly & Son Funeral Home in Voorheesville.
Family and friends are invited to a graveside service at Oakwood Cemetery at 156 Oakwood Avenue, Troy, NY 12180 on February 25 at 1 p.m.
After the graveside service, family and friends are invited to a celebration of life at the American Legion #1493 at 31 Voorheesville Avenue, Voorheesville, NY 12186 starting at 2 p.m.