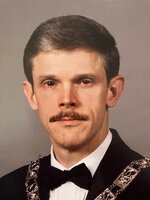 Stephen E. Kohler
New Scotland - Stephen E. Kohler, 71, died Friday, February 17, 2023 at the Kingsway Arms Nursing Center in Schenectady. Born in Albany, he was a 1969 graduate of Voorheesville High School. He then attended Delhi University before proudly enlisting in the United States Coast Guard. During his service, he had the opportunity to spend time in places such as Boston, Jamaica, Guantanamo Bay, the Panama Canal, Seattle and Alaska. Steve become both a photography enthusiast and a distinguished marksman during his Coast Guard service.
After the Coast Guard, Steve spent over 30 years at the Watervliet Arsenal. He enjoyed working for the Arsenal and being able to make a difference for our country. He also enjoyed all of the wonderful colleagues he had there.
Steve loved spending time outdoors engaging in activities such as hunting, tending to his lawn and grilling for visitors to his home. Family gatherings brought Steve great joy, as did traveling, taking cruises and spending time in Florida. Whether at home or in his travels, what mattered most was being with loved ones and helping anyone who called upon him.
Steve's dedication to service motivated his loyal and dedicated membership in the Elks, where he enjoyed serving in a leadership capacity, mentoring younger members and formally serving his community. Steve led a life characterized by quiet thoughtfulness, kindheartedness, steady reliability and courageous grace in the face of adversity.
Steve was the son of Dorothy Bremer Kohler and the late Lewis Kohler; father of Erin Kohler and Emily Kohler; brother of Van Kohler (Lynn), Richard Kohler (Joan) and Wendy Kohler; companion of the late Cindy Speanburg. Other survivors include his children's mother, Gale Kohler; longtime family friend, Donna Gray; and several nieces and nephews.
Steve's family would like to extend a very special thank you to the Kingsway Arms Nursing Center for the wonderful care that they provided to him.
A memorial service will be held at 11:00 o'clock Saturday, February 25, 2023 at the New Scotland Presbyterian Church, 2010 New Scotland Rd., Slingerlands, NY 12159 followed by a reception in the church hall. Relatives and friends are invited and may also call at the church Saturday from 10 - 11 am, prior to the service. In lieu of flowers, please send donations to the New Scotland Presbyterian Church.