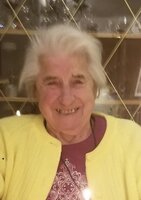 Elisabeth A. Lamprecht
Glenmont - Elisabeth Lamprecht, 87, passed away peacefully on Thursday December 29, 2022, at Shaker Place Rehabilitation & Nursing Center.
She was the beloved wife of the late Guenter Lamprecht. A loving and devoted mother, Elisabeth is survived by her children Dieter Lamprecht and Karin Berhaupt (Peter); by her grandson, Philip Berhaupt who she was so very proud of; and the 'other Oma' to Logan and Piper.
Elisabeth's family would like to extend a special thank you to Dr. Caulfield and the staff on Ann Lee Unit at Shaker Place, especially Heather, Michael, Karen, and Lisa; the staff on D4N @ Albany Med, particularly Dr. Desemone; and the doctors and staff at Capital Cardiology notably Dr. Esper for their care and compassion.
Funeral Services will be private and at the convenience of the family.