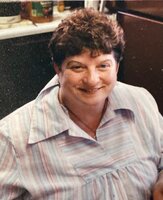 June Ricci
Colonie - June Ricci, 87, of Shaker Place Rehabilitation & Nursing Center, passed on 11/19/22. June heroically fought and won her battles with breast and colon cancers. She valiantly fought dementia the last few years of her life. She passed surrounded by her family who loved her and who knows she is now at peace.
She is predeceased by her parents, Wesley and Patricia (Warner) Ballweber and her sister, Nancy Halliday. She is survived by her nieces and nephews, Sandra Dugan, David Hummer (Barb), Michael Hummer (fiancée, Donna), Holly Halliday–Crowe (David) and Cindy Halliday; and several great nieces and nephews.
June grew up in Rotterdam and lived the better part of her life in Altamont. She is predeceased by her husband,Ralph, to whom she was married 60 years. She was the mother figure to Shawn Thibodeau (Stephen) whom she helped raise as her own son. She enjoyed music and dancing, shopping, and making people laugh. She had a passion for photography. She was a home maker, caregiver, and also worked various jobs to support the household. June worked for W. T. Grants Dept Store, Walmart & in her husband's shoe repair store in Albany.
Calling hours will be on Friday, 12/2/22 between the hours of 4pm-7pm at the Reilly & Son Funeral Home, Voorheesville. Flowers are appreciated and donations can be given to the Dementia Society of America at www.dementiasociety.org. An inurnment ceremony is planned in the Spring at Memory Gardens in Colonie.