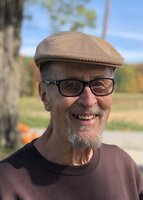 George J. Wheeler
Schenectady - It is with loving hearts, endless affection, and deep sadness that we share the passing of George Wheeler Jr. He died at age 87 at Kingsway Nursing Home in Schenectady, NY on Friday, July 15, having waged a brave and spirited fight against multiple medical conditions for several years.
Visitation will be at Reilly Funeral Home at 1200 Central Ave, Colonie, NY, on Wednesday, July 20 from 5 to 7 pm. Funeral services will be held at the funeral home on Thursday morning July 21 at 11 am, followed by burial at Memory Gardens.
George was born March 18, 1935 in Albany, an only child to George Sr. and Helen Wheeler. He loved that he lived nearly his whole life within a five-mile radius in West Albany and Colonie. He attended Roessleville High School in Colonie and served in the National Guard as a young man. For more than 50 years, he was the proprietor of Wheeler's Liquor Store on Central Avenue.
George had an outsized personality and a passion for living. He showered love on his wife Janet, his parents when they were alive, and his five children. He was fond of muscle shirts and gold chains and enjoyed nothing better than telling stories and sparring with his friends and kids. He worked hard, six days a week in the store for much of his adult life, but also in his yard, where he was very proud of his lawn and in the summer his tomatoes and peppers. He also owned and managed apartments for many years of his life.
When there was time for relaxing, he enjoyed time up at the family camp in Saratoga, visiting with neighbors, fishing with the kids, and summer barbecues. Later, he and Janet spent time with the younger kids camping at Earlton before they joined the RV set, parking their camper on the beach for weeks in Cape Cod and Maine. Later still, they enjoyed cruises and wintering with friends in Lauderdale by the Sea. At home, they liked to take rides through New England, especially in the Fall as he searched for the most perfect apple.
George was a competitor. He was an avid handball player for more than 60 years and won several tournaments. He made lifelong friends from handball and his family is grateful to them for their care and support over the years. He was also known to play a game of cards, taking on friends and family both. As health issues appeared in middle age, George became a health and fitness buff, most likely adding years to his life. He was proud of his physique and youthfulness and didn't mind a compliment in that regard.
George is survived by Janet, his loving wife of nearly 49 years. He is also survived by children Bob Wheeler (wife Laura, children Bobby Jr. and Danny) of Kansas City; Laurie Allen (husband Jim) of southern California; George Wheeler (wife Debbie, children Abi and Joseph "Buddy"), of Lutz, Florida; and Darcy Preheim (husband Tom, children Matthew and Connor) of Dallas. He also leaves behind three great-grandchildren. He was predeceased by his parents and his beloved son, Michael.
George will be missed greatly and remembered always by his family and friends.
Memorial donations may be made to the American Cancer Society in lieu of flowers.