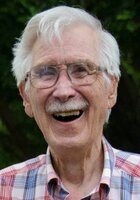 Samuel A. Youmans
Samuel Adelbert Youmans, of Voorheesville, beloved husband of the late Kathryn Elizabeth (Sofield) Youmans, passed away on Monday, May 9, 2022 at home.
Sam was born on July 8, 1921, and was raised on the family dairy and poultry farm, Youmans Farms in New Scotland. He was the son of the late Lester and Ethel (Cozine) Youmans, and was a lifelong resident of the town of New Scotland.
Sam graduated from Bethlehem Central High School, and from the State School of Agriculture at Cobleskill, NY where he met his wife Kathryn. They were married on April 10, 1943.
After Youmans Farms was sold, Sam established his own building improvement service. He was active in the New Scotland Kiwanis Club, Senior Citizens and was a charter member of the New Scotland Historical Association. He was recently honored for 84 years of membership in the New Scotland Presbyterian Church, where he served on many Boards and Committees over the years.
Sam was predeceased by his wife Kathryn and his son James. He was also predeceased by his three brothers, Lester, Jr., Donald and James. He is survived by his daughter Donna Clark (John) of Ledyard, CT; two sons, David Youmans (Sharon) of East Greenbush, NY and Timothy Youmans (Margene) of Winchester, VA; and a daughter in law Mary Youmans of Sugarland, TX; nine grandchildren and seven great grandchildren.
A service of remembrance will be held June 13th at New Scotland Presbyterian Church; 2010 New Scotland Rd, Slingerlands, NY 12159. Calling hours will be held at the church from 10 to 11:00 am, and a memorial service immediately following. Those who wish to remember Sam in a special way may send donations in lieu of flowers to New Scotland Presbyterian church or to New Scotland Historical Association.