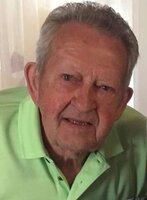 Walter John Fisher, Sr.
Voorheesville - Walter J. Fisher, Sr. suddenly passed away on May 3, 2022 at St. Peter's Hospital.
Mr. Fisher was born in Dormansville, NY on March 7, 1930. He served in United States Army Hells on Wheels Division in 1948-1949 and then transfered to the
army reserves from 1949-1953.
He worked at Albany Castings in Voorheesville, the Cider Mill and Local 12 Ironworkers. He was preceded in death by his son
Jimmy.
Survivors include his devoted loving wife, Virginia "Ginny", his daughter Bonnie (Lynn) Wacksman of Guilderland, NY, Walter Fisher Jr. (Lou DeMaria) of Prescott, Arizona,
Jeff (Candy) Fisher of Delanson, NY and Jennifer Fisher of Voorheesville.
Walt was a lifetime member of the Voorheesville Rod and Gun Club, proud member of the Voorheesville Fire Department of 65 years.
Enjoyed gardening, watching Nascar, New York Yankees, hunting, playing his lottery numbers and loved his grandchildren.
His Grandchidren are Steve (Kathy) Wacksman of Guilderland, NY, Mike Wacksman of Cobleskill, NY, Christina (Stuart) Menzies of Esperance,
Katrina Fisher of Knox, Ashley (Justin) Morehouse of Owego, NY, Tiffany (Jared) Wengenack of Schoharie, NY, Jessica (Andrew) Preisner of Westerlo, NY,
Cody (Emily VanWormer) Fisher of Medusa, NY. He also had 17 great grandchildren. Zachary, Connor and Madison Wacksman, Victoria and Stuart Menzies, Jayden Fisher,
David and James Patnode, Courtney, Colin and Jason Morehouse, Dean and Roy Wengenack, Liam, Owen, Dillon and Faith Preisner and 2 step grandchildren Michaela Burbank
and Allison Lefebvre.
Funeral services will be held at 10:00 a.m. Saturday, May 7, 2022 at the Reilly and Son Funeral Home, Voorheesville. Relatives and friends are invited and may also call at the funeral home Friday from 4-7 p.m. In lieu of Flowers the family would like proceeds to go to Voorheesville Fire Department, 12 Altamont Rd. Voorheesville NY 12186.