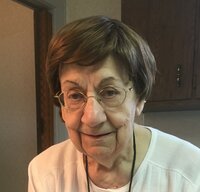 Margaret Nuciforo
Albany - Margaret Nuciforo of Albany passed away peacefully Monday, April 11, 2022 at Kingsway Arms Nursing Center surrounded by her family. She was 96 years old.
Born and educated in Albany, Margaret was the daughter of Domenico and Rose (Santa Lucia) Nuciforo. After graduating from high school, Margaret worked for the Mohawk Brush Company, then went to work for New York State, eventually serving as supervisor of the Department of Civil Service Employee Benefits. She retired from that position in 1987, after a distinguished career.
As a communicant of St. Francis of Assisi Church, formerly St. James, Margaret was a woman of strong faith.
Margaret was a caregiver to her family, regularly making personal sacrifices on their behalf. She was proudest of this, and of her professional accomplishments as a woman in a leadership role before that was a commonplace occurrence. She placed a high value on independence and personal dignity throughout her life.
Margaret had a tremendous work ethic and a strong sense of responsibility, but she also enjoyed many interests and hobbies. She loved reading, horseback riding, baking, knitting, and travel. She had a wonderful sense of humor, and formed her first impression of everyone she met by the quality of their smile. Everyone she encountered talked about her positive attitude and sweet disposition, even as her health declined in her final years.
Following the death of their parents, Margaret stepped into the role of mom to Anthony Nuciforo (Cheryl) and Dominic (Mary Ann) Nuciforo and honorary grandmother to their children Dominic Nuciforo, Jr., Lisa Mahar, Megan Bassett, Michael Nuciforo, Joe Nuciforo, and Anthony Nuciforo Jr. She is also survived by her sister, Angie Ramundo, her nephews Paul Ramundo (Linda), Patrick Ramundo (Nancy Clemens), and John Ramundo, 6 additional great nieces and nephews, 20 great-great nieces and nephews, and numerous cousins and close friends.
In addition to her parents, Margaret was pre-deceased by her sister Rose and her brother Joe, her sister-in-law Josephine Nuciforo, and her brothers-in law Paul Ramundo and Anthony Iavenditti.
The family wishes to extend its gratitude to the staff at Kingsway Arms Nursing Center and the Kingsway Manor for the care and love they have shown Margaret over the past three years.
A Mass of Christian Burial will be held at St. Francis of Assisi Church at 10:00 on Tuesday, April 19. Interment will follow at St. Agnes Cemetery. Relatives and friends are invited to call from 4-7 on Monday April 18 at Reilly and Son Funeral Home, Colonie.
Of all the excellent care she received, Margaret was particularly grateful for speech therapy that kept her connected to her loved ones and the world after a series of strokes impacted her communication. For that reason, and because of Margaret's commitment to education, the family has established a grant to support the education of a speech therapy student with plans to work in the geriatric field. Those wishing to contribute may mail checks to Margaret Nuciforo Scholarship, Office of Institutional Advancement, College of St. Rose, 432 Western Ave., Albany, NY 12203.