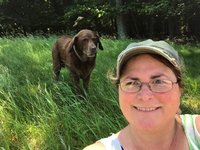 Janis L. Dunham-Relyea
Voorheesville - Janis L. Dunham-Relyea, 51, died Monday, June 24, 2019. Born in Syracuse, Janis was the daughter of Joan Dunham Card, Douglas Card and John Sleeth. She was the wife of Paul A. Relyea; mother of Mitchell Relyea (Catie); grandmother of Natalia Relyea; sister of Kathy and Chris. She is also survived by several other family members.
Friends are invited to celebrate Janis's life on Tuesday, July 2, 2019 after 4:00 p.m. at her and Paul's home at 54 Altamont Rd., Voorheesville. In lieu of flowers, her family requests donations be made in memory of Janis to Albany Medical Center, c/o Albany Medical Center Foundation, P.O. Box 8928, Albany, NY 12208 or online at https://community.amc.edu/givenow.