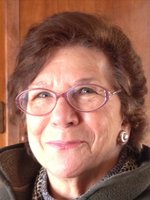 Florence A. Reilly
Colonie - Florence Fasciglione Reilly, 88, died peacefully on Monday, December 31, 2018 at St. Peter's Hospital. Born in Albany on February 28, 1930, Florence was the daughter of the late Dominick and Mary Lomanaco Fasciglione. She was a homemaker and also worked for 25 years at J.C. Penney in Albany. Florence was an Ambassador and volunteer at the Albany Airport. She loved her family more than anything and enjoyed dancing, the theatre and yard work.
Florence was the wife of 45 years of the late Joseph J. Reilly, Jr.; mother of Skip Reilly ( Audrey) of Guilderland, Michael Reilly (Elizabeth) of Latham, Jim Reilly (Darlene) of New Baltimore, Beth Platzbecker (Kurt) of Cleveland, OH and John Reilly (Lisa) of Queensbury; sister of Jack Fasciglione (Sue), Ellen Hallen (Pat) and the late Peter Fasciglione and Eunice Hamm; grandmother of Justin, Cheryl, Jimmy, Katie, Eileen, Maria, Jessica and Nicole; and great-grandmother of Brooke, Avery, Erin and Cooper. She is also survived by her caring neighbor, Sharon.
Florence's funeral mass will be celebrated at 10:00 a.m. Saturday, January 5, 2019 at Christ Our Light Church, 1 Maria Dr., Loudonville. Burial will be in Our Lady of Angels Cemetery in Colonie. Calling hours will be Friday from 4 - 7 p.m. in the Reilly & Son Funeral Home, Colonie. In lieu of flowers, memorial donations to the American Diabetes Association, 2 Pine West Plaza, Albany, NY 12205 would be appreciated.