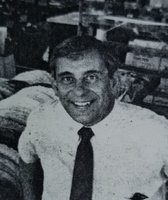 Carl E. Treiber
Voorheesville - Carl E. Treiber passed away Christmas Day 2018 in the presence of his family. He was born October 10, 1934 in Queens, New York to Caroline and Carl Treiber.
He is survived by his loving wife of 57 years, Kate. He is also survived by his children, Anne (Jim) Reilly, Christine (Douglas) Melanson, Karen (Michael) Koutsourades and Carl (Karen) Treiber. He was blessed with his grandchildren Martha (Jimmy), Sam, Megan, Rachel, Carl, Johan, Nina, Kate and Elena. He is also survived by his sister, Carol (Bernie) Young; brother, Cliff (Debra) Treiber; sister-in-law, Penelope Burke and several nieces and nephews.
Carl had a passion for retail and worked for W.T. Grant for many years. He finally opened his own store Linens by Gail in Delmar in 1984. In his spare time he enjoyed fishing, boating and trips to Cape Cod.
He was loved by many for his generosity, humility and kindness and will be greatly missed.
Funeral services will be held at 10:00 a.m. Saturday at St. Matthew's Church, 25 Mountainview St., Voorheesville. Burial will be in Mt. Pleasant Cemetery in New Salem. Calling hours will be Friday from 4 - 7 p.m. in the Reilly & Son Funeral Home, Voorheesville.
For those who wish, memorial donations may be made to http://www3.parkinson.org/goto/CarlTreiber