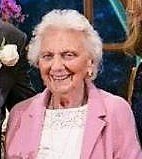 Miriam E. Jarvis
Delanson - Miriam E. Jarvis, 93, died Sunday, October 21, 2018 at her home. Born in Brooklyn, she was the daughter of the late Frederick and Mildred Fitzgerald Piel and wife of the late Joseph L. Jarvis. Miriam was a graduate of Vincentian High School in Albany and had worked as a Sears Service Contract Manager for 20 years before retiring. She was a communicant of Our Lady of Fatima Church in Duanesburg. Miriam was the heart of her family and loved spending time with her children and their families. She loved dancing, shopping and bowling. She was able to continue bowling until she was 90 years old.
Survivors include her children, Lorraine (Steven), William (Darla), Michael (Terry), Mary Ann (Donald), Joseph (Vickie), Edward (Lynn), Robert, Susan (Joe), Elizabeth (Greg) and Donald; 14 grandchildren, 12 Great-grandchildren and one great-great-grandson. She is joining her husband and her two angels, Kathleen and Deborah.
Miriam's funeral mass will be celebrated at 11:00 a.m. on Wednesday, October 24, 2018 at Our Lady of Fatima Church, 1735 Alexander Rd., Delanson. Entombment will follow in St. Agnes Cemetery in Menands.