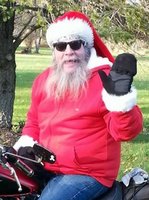 Robert F. Matott
Westerlo - Robert F. Matott, 55, died Tuesday, July 10, 2018. Born January 27, 1963, Robert was the son of the late Belva LaDuke and William Matott. He was raised in Voorheesville, was a graduate of Voorheesville Central High School and for the past 25 years he had lived in Westerlo. He has worked for Price Chopper for the past 12 years. Passionate about motorcycle riding, Robert was active with the local Toys for Tots fundraisers and charity rides. He volunteered for many years at the annual Harley Rendezvous in Duanesburg. Robert also loved his family, cooking, collecting hats and music.
Survivors include his wife, Lisa Carroll Matott; children, Heather Matott (Joseph Korkemaz) of Bethlehem and Haley Schager (James) of Clarksville; sister, Bonnie Hughes of Preston Hollow; grandchildren, Oliver Schager and Liam and Adam LeBlanc; mother-in-law, Fleda Kolp; and many loving brothers and sisters-in-law, nieces, nephews and cousins. He was predeceased by his brother, William Matott, Jr.
Robert's funeral mass will be celebrated at 10:00 a.m. Saturday, July 14, 2018 at St. Lucy / St. Bernadette, 109 Grand St., Altamont. Relatives and friends are invited and may also call from 4 - 8 p.m. Friday at the Reilly & Son Funeral Home, Voorheesville. For those who wish, memorial donations to Toys for Tots would be appreciated.