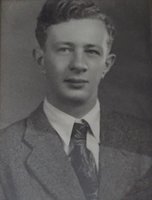 John J. Wilson
Colonie - John J. Wilson, 89, of Colonie, NY passed away on Wednesday, March 28, 2018 at his daughter's home. Born in Albany, on January 6, 1929 to the late Margaret (Miller) and Mason Wilson.
After graduating high school, John started his long career at General Electric in Schenectady. He took a leave of absence to join the Navy where he served from September 1948 to September 1952. Following his tour in the Navy, John returned to General Electric where he worked for the next 42 years. Alongside General Electric, John worked at Rosano's Hardware Store in Colonie for 15 years. John married Josephine Spica on November 27th, 1954 and they raised a family in Colonie.
John loved going on drives. Twice, he and his wife Josephine and their four children went on cross country road trips to California. After his wife passed, John took to a daily habit of driving past each of his children's homes, making sure everything was okay. Sometimes you would catch a glimpse of his car rounding the corner. John enjoyed woodworking, making many items that still remain in the homes of his children and grandchildren. John was passionate about music. He played trombone and trumpet in a local band. He also enjoyed going fishing with his sons, watching sports on TV, and spending summers at Deer Run campground.
John is preceded by his beautiful wife, Josephine, his siblings, Joyce Greg and Michael Wilson, and his daughter-in-law, Sharon Wilson. Survivors include his four children, Judy Stafford, Michael Wilson, John Wilson Jr. and his wife Kathy, Joanne Hopf and her husband Christopher. His brother, Mason Wilson Jr. and his wife Norma. John also leaves behind his cherished grandchildren, Melissa Stafford and her partner Kent Grimes, Jamie and Emily Stafford, Christopher Wilson and his wife Meghan, and J.D. Wilson and his wife Rachelle, Vanessa and Michelle Hopf, as well as great-grandchildren, Ethan Stafford, Niah Grimes, and River Wilson. Funeral services will be conducted at the convenience of the family.