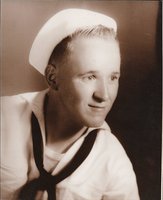 Edward William Hoag
Edward William Hoag, 75, peacefully passed away by his loving family at his Winston-Salem, NC home on Friday, March 23, 2018.
Family and friends will be received on Thursday, April 5, 2018 from 6:00-8:00 PM at the Reilly & Son Funeral Home, Inc., 1200 Central Avenue, Colonie, NY 12205.
Internment with military honors at 10:00 AM Friday, April 6, 2018 at Memory Gardens Cemetery & Memorial Park, 953 Watervilet-Shaker Road, Colonie, NY 12205
He was born to the late Eugene Hoag and Marie Matthews of Albany, NY. In addition to his parents, he was preceded in death by his wife of 32 years; Eileen Betty Nobles, two brothers; Andrew Hoag of Albany, NY and Arthur Hoag of New York, NY.
He is survived by his wife of 17 years, Kay Hoag of Winston-Salem, NC. Two brothers; Eugene Hoag of Pittsfield, MA and Robert Hoag. Two Sons; Thomas Hoag and Douglas Hoag, both of Nassau, NY. Two Grandsons; Austin Hoag and Shawn Hoag both of Nassau, NY. A mother-in-law, a brother-in law, five sisters-in-law, two stepchildren & their spouses, four step grandchildren, as well as numerous nieces and nephews.
After attending Philip Schuyler High School in Albany, NY he enlisted in the United States Navy, serving during Vietnam, in addition, the United States Naval Reserves. He retired from banking and moved south. He was kind and gentle and would do anything for anyone.
Memorials may be made to the American Cancer Society, 1900 South Hawthorne Road, Winston-Salem, NC 27103, or Hospice & Palliative Care Center, 101 Hospice Lane, Winston-Salem, NC 27103. The family would like to extend a special thanks to Hospice Palliative Care Center for their care during this time.