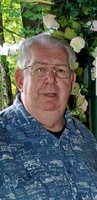 Robert H. Euler
Clarksville - Robert H. Euler, 78, died Friday, March 16, 2018. Born in Albany, he was the son of the late Madeline Reisner and Howard Euler and had lived in Clarksville for the past 46 years. Robert was a veteran of the United States Air Force and had worked for more than 30 years for AT&T before retiring in 1998. He was a Boy Scout leader, a NY Yankees fan and an avid fisherman.
Robert is survived by his wife of 46 years, Judy Livingston Euler; children, Christopher (the late Kathleen), Jacqueline (the late Mark) and Steven (Jennifer); granddaughters, Olivia and Emma Sue; siblings, Janet Weidman (Edgar) and Richard Euler (Sandy); and father-in-law, John "Jack" Livingston.
Relatives and friends are invited to call at the Reilly & Son Funeral Home, Voorheesville on Monday, March 19, 2018 from 4 - 7 p.m. All other services will be private at the convenience of the family. For those who wish, memorial contributions to the Albany County Sheriffs EMS Division, 58 Verda Ave., Clarksville, NY 12041 would be appreciated.