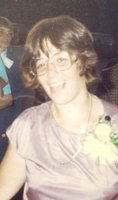 Darcy Jo Brackett
Albany - Darcy Jo Brackett, 56, died Friday, March 9, 2018 at the Albany Medical Center Hospital. Darcy Jo was a graduate of Clayton A. Bouton High School in Voorheesville, enjoyed her family and loved cats.
She was the daughter of Richard G. Brackett (Mary) and the late Phelisa Deitch Brackett; sister of Richard K. Brackett. She is also survived by her nieces, Abigail, Erin and Hannah Brackett and several aunts, uncles and cousins.
A Memorial Service will be held at 1:00 p.m. Saturday, April 28, 2018 at the Reilly & Son Funeral Home, Voorheesville. For those who wish, memorial donations to www.bpcanimalrescue.com or Scruff, PO Box 200, Guilderland, NY 12084 would be appreciated.