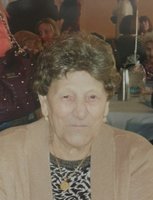 Mafalda Corcione
Colonie - Mafalda Corcione, 92, of Colonie passed away on Tuesday, March 6, 2018 surrounded by her loving family. Born in Moschiano Italy, on November 16, 1925, she was the daughter of the late Sabato and Francesca Pacia. She was the dear wife of 46 years to Michael Corcione.
Mafalda immigrated to the United States with her three children at the age of 41 to be with her husband. She worked at the Fuller Brush Company and the Corcione Bakery in Albany. She greatly enjoyed spending time with her family, cooking for her family, ensuring they were always full, and spending time with her friends. Her quick wit and sense of humor will greatly be missed.
She was a woman devoted to her faith. She was a member of Our Lady of Mercy Catholic Church in Colonie for many years and most recently was a member of Christ Our Light Catholic Church in Loudonville. She thoroughly enjoyed attending mass and watching daily mass, reciting her rosary as well as saying her prayers.
She was the beloved mother of Salvatore Corcione, the late Sabato Corcione, and Rose Sidoti, mother-in-law of Marie Corcione, Francesca Corcione and Philip Sidoti. Mafalda was the Nonna (Grandmother) to Lisa (Chris) Tarullo, Jennifer (Shaun) Soucy, Gina (Thomas) Smith, Michelle Sidoti, Philip (Gina) Sidoti, Michael and Eugene Corcione. She was also a Bisnonna (Great grandmother) to Marissa and Sarah Tarullo, Jacob Smith and Philip D Sidoti. Alongside her family in America, she is also survived by one sister, Italia, in Italy and predeceased by six sisters and two brothers in Italy. She is also survived by many nieces, nephews, great nieces and great nephews in both America and Italy.
The family would like to thank the staff at St. Peter's Hospital, the infusion center staff at Memorial Hospital, Dr. John Bashant and his staff, Dr. Lawrence Garbo (NYOH) and his staff and Community Hospice for all their guidance and care. Calling hours will be on Friday, March 9, 2018 from 4 to 7 pm at Christ Our Light Catholic Church, 1 Maria Drive, Loudonville. A Mass of Christian burial will be celebrated at 10 am on Saturday, March 10, 2018 at Christ Our Light Catholic Church. Interment will be at Our Lady of Angels Cemetery, Colonie, NY. Memorial contributions may be made in Mafalda's memory to the American Red Cross, Community Hospice or Christ Our Light Catholic Church.