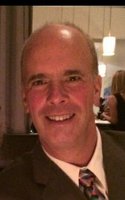 William J. Burrill
William J. Burrill, 59 of Voorheesville, NY died unexpectedly at St. Peter's Hospital on March 2, 2018. Bill graduated from CBA in the class of 1976 and went on to become a proud Siena Saints graduate in 1980 where he obtained a bachelors degree in accounting. Bill worked for the State of New York at the Department of Tax and Finance for 33 years and had been blissfully enjoying retired life since July of 2014. Retirement gave him to ability to enjoy his time on his own terms. He enjoyed officiating local basketball games, hiking, biking, and camping to name a few. Golf was a passion for Bill and some of his best memories were made on the course. For those who had the privilege to share a game of golf with him you knew you would learn a thing or two about what a perfect swing looked like. Additionally, Bill enjoyed the world of professional sports and was a devoted Mets and Vikings fan..SKOL!! Above all, Bill's earthly purpose was devoted to his family and his faith. At 6'9, Bill was a gentle giant. He had the heart of a true servant and lived out his calling to be the hands and feet of Jesus daily as he served those around him. His presence was a privilege and the legacy he has left is vast. Bill was the son of the late William G. Burrill and Maureen Angela (Rourke) Burrill. He was predeceased by his brother Brian D. Burrill. Survivors include his beloved wife of 34 years, Mary Beth (O'Hare) Burrill, two precious daughters, Elizabeth K. Wyman (Robert) and Margaret M. Dudek (John), and his sister, Mary K. O'Brian of Penfield, NY. He also leaves behind many adored nieces and nephews, aunt and uncles and cousins.
Family and friends are invited to call on Thursday, March 8th from 4 to 7pm at Christ Church of Guilderland at 4 Charles Blvd, Guilderland, NY 12084. A service will follow at the Church at 7pm.
In lieu of flowers donations can be made to Juvenile Diabetes (JDRF) 26 Broadway, 14th Floor, New York, NY 10004 or Christ Church of Guilderland at the address above.