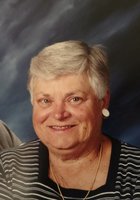 Virginia Marie "Ginny" Walsh
Glenville - Virginia "Ginny" Walsh, 86, formerly of Colonie died Sunday, August 13, 2017 at the Glendale Nursing Facility. Born in Albany, Ginny was the daughter of the late Philip and Lillian O'Brien Wolfstich. She worked for the former First Trust of Albany for 40 years, retiring as a Bank Officer in 1986. Ginny was a lifetime and very active member of the Fuller Road Fire Department Ladies Auxiliary.
Ginny will be remembered for her love of life and family. She was the wife of the late Thomas Walsh; sister of Patricia Wilday (Ed) of Latham and the late Thomas Wolfstich and Philip "Bing" Wolfstich, Jr.; sister-in-law of Judy Wolfstich of Arizona; dear friend of the late Robert Cordell; and aunt of many treasured and well loved nieces, nephews and their families.
Funeral 8:00 o'clock Saturday, August 19, 2017 from the Reilly & Son Funeral Home, Colonie and at 9:00 o'clock at Blessed Sacrament Church, 607 Central Ave., Albany. Burial will be in Our Lady of Angels Cemetery in Colonie. Calling hours will be Friday from 4 - 8 p.m. in the funeral home.
The family would like to thank all the Staff and Volunteers at Glendale Home for their wonderful care and attentiveness. They created a warm, caring and comfortable environment as they became Ginny's extended family. Those who wish may make donations to the Glendale Home Auxiliary, 59 Hetcheltown Rd., Scotia, NY 12302 or the Alzheimer's Association, 4 Pine West Plaza #405, Albany, NY 12205 would be appreciated.