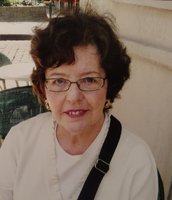 Kathleen A. "Casey" Diegel
CoLONIE- Kathleen "Casey" Diegel, 70, peacefully entered into eternal life surrounded by her family at home on July 26, 2017, after a courageous three year battle with pancreatic cancer.
Born in Albany, she was the daughter of the late, James and Anita (Hesch) O'Brien.
Casey graduated from Vincentian Institute, Rosary Hill (Daemen) College and the College of Saint Rose with a master's degree in education.
She taught at Saddlewood Elementary and Lisha Kill Middle School in the South Colonie School District for 31 years. She loved teaching and had a passion for learning.
Casey was known for her smile, kind and generous heart, creativity, love of fashion, kitchen gadgets and love of dogs.
Casey was a gifted quilter who enjoyed sewing and was willing to tackle any project. She loved cooking and was known for her homemade meals especially at Thanksgiving. Everyone always looked forward to her pies and butter cookies. She also loved to travel and visit new locations.
Casey is survived by her beloved husband of 47 years, Edward and her children, John of Allentown, PA, and Krista Diegel-Palombo (Dario) of Milford, MA and her granddaughters, Gianna and Nadia Palombo, who brought her so much joy.
Casey is also survived by her siblings; Mary Jean Neary (Edward), Christine Van Denburgh (Don), Jim O'Brien (Michelle), Teri Lansing (Jack) and Tom O'Brien (Nicole). Sisters in law, Jackie Diegel (Karl Westphal) and Joan Fletcher (Ray). Along with numerous nieces and nephews.
The family would like to thank Dr. Garbo and the nurses at NYOH for their compassionate care of Casey. The family also extends their appreciation to Community Hospice for their support and care which allowed Casey to remain at home.
A funeral mass will be celebrated at 10:00 a.m. Tuesday, August 1, 2017 at Christ Our Light Church, 1 Maria Dr., Loudonville. Relatives and friends are invited and may also call at Christ Our Light Church on Monday from 4 - 7 p.m.
In lieu of flowers the family requests donations in her memory to the Mohawk Hudson Humane Society, 3 Oakland Ave, Menands, NY 12204 or the charity of your choice.